Eating out in St Ives
19th June 2017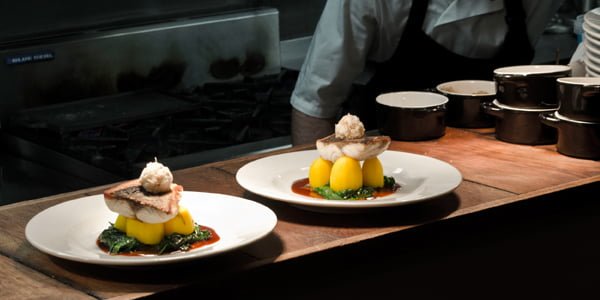 St Ives has a fantastic reputation as a great place to eat out – and we'll second that! You can check out TripAdvisor or read the restaurant reviews; however, you can't beat a personal recommendation from food-loving locals. Here are some of our suggestions for a great meal out in St Ives.
For that special occasion…
For exceptional modern British food served against a beautiful backdrop, try Alba Restaurant. Housed in a former lifeboat station, it's in a lovely location on the lively Wharf. It's always been one of our preferred places for a special-occasion meal.
A bit further up the road, The Black Rock also serves fantastic Cornish produce, and is one of only six Cornish restaurants to receive the Bib Gourmand Award from the Michelin Guide. A sophisticated, grown-up restaurant, book The Black Rock for a romantic dinner.
Making the most of the view
For always-good food and the best views in town, work your way through the Porthminster family of restaurants. The Porthminster Café on Porthminster Beach (and it really is on the beach) is a firm favourite with everyone who eats there. Their smaller restaurant Porthgwidden Café is a lovely, relaxing place to eat in its pretty little cove, and it has a fantastic terrace. Their latest venture, Porthminster Kitchen, is on Wharf Road, overlooking the harbor. Like their other cafes, it's fun, laid-back, and produces exceptional Cornish cuisine.
However, our personal choice is Porthmeor Beach Café, which has such a fantastic atmosphere and serves incredible tapas. Go on a cooler day and try to get one of their heated outdoor booths. Watch the waves from your cosy den, nibbling on fresh Cornish-caught fish. Perfection.
Fun family feasts
For sheer joyful liveliness, friendly service, and a Cornish take on US food, The Hub near the harbour is a great choice for families. Kids and dogs are treated very well, and the chips are voted the best by many of their young diners! There's a great beer menu for the parents, and the views from the balcony are wonderful.
For burgers, try Blas Burgerworks at the other end of Lambeth Walk from the Hub. It's a unique dining experience, as you perch on recycled boxes in this quirky and intimate restaurant. And as for the burgers… Wow.
Closer to home, our local pub, The Halsetown Inn, is also welcoming for families. The food there is also great, and there's the advantage that it's only a short stroll from the campsite.
For something completely different
Located in one of St Ives' many enticing back lanes, the Hidden Kitchen is worth seeking out. Again, it's one of our personal recommendations, as we love both the food and the unique atmosphere. Relax in the living room before heading through to the inviting dining room, where there's room for only 16 guests. The menu changes regularly – find them on Facebook for further details. They also host special supper clubs and events.
Let's just stay local…
Then of course, for those evenings after a busy day on the beach, you can always just unwind in our very own Stables Bar and Restaurant… Fresh, local ingredients, a great kids' menu, and our famous home-baked pizzas: eating out, made simple.
Between us, the Polmanter team has an encyclopedic knowledge of local pubs, takeaways, restaurants and cafes. If you want any more recommendations, please just ask us.