Our latest project…
2nd November 2017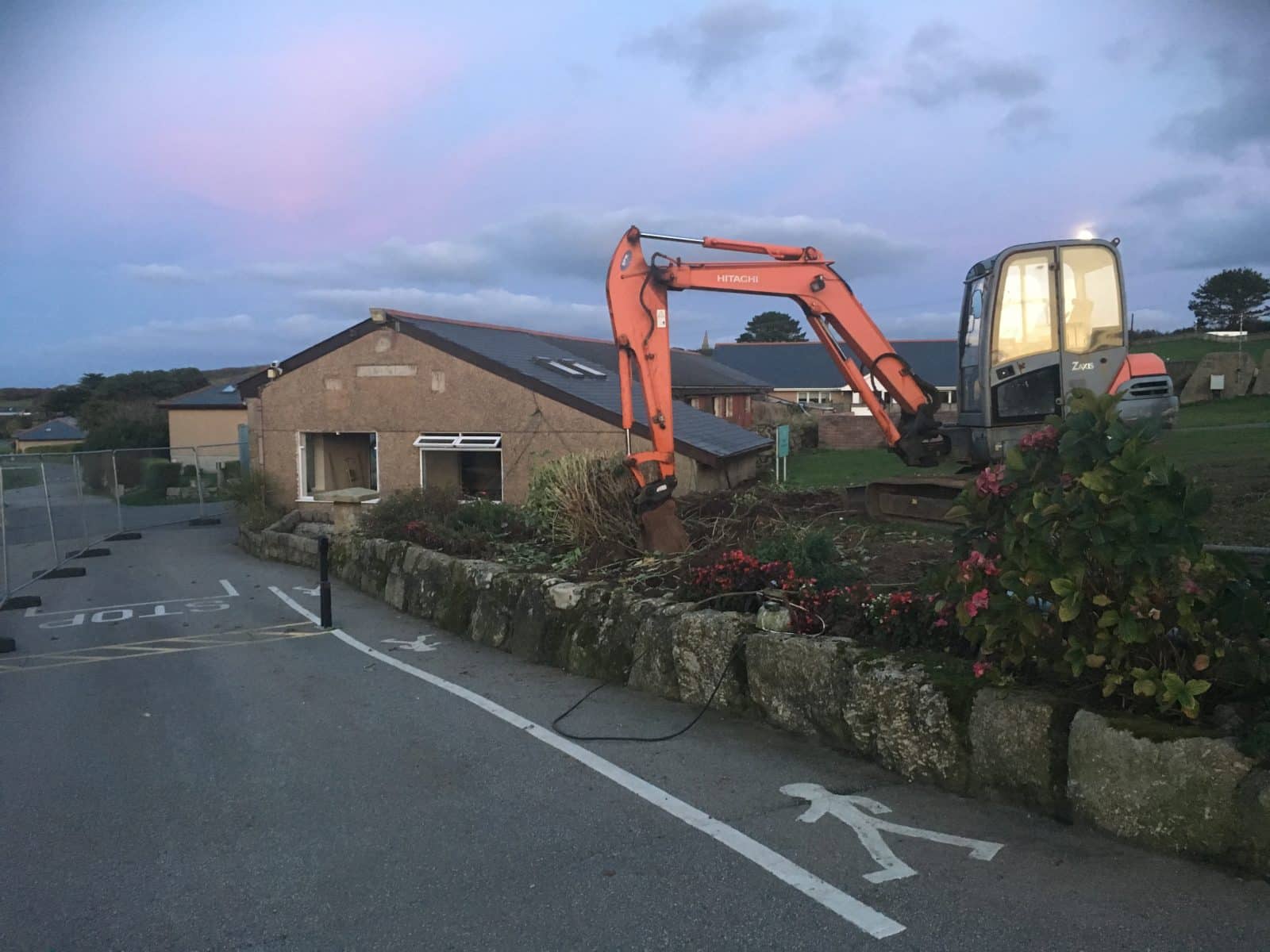 As soon as the last caravan heads off into the sunset, you'd expect the Polmanter team to down tools for the winter. Not so – after a quick breather, we roll our sleeves up and spend the closed season working on exciting new projects. This year, we reopened with a luxurious new spa. In 2018, Polmanter's guests will be welcomed into a stylish new reception building, combined with an upgraded site shop.
Our reception and shop date from the 70s and 80s; and although they've served us well for many years, they were beginning to feel a little tired. We wanted to bring these buildings up to date so they'd look as good as our other more recent builds and renovations.
A new hub for Polmanter
We decided to combine the reception and shop to create a lively and inviting new space. The new building provides a go-to centre for everything from beach advice to bus timetables to buying your breakfast.
Unlike the 1980s, we now expect to be able to shop whenever suits us. Small campsite shops can't imitate the full-on 24-hour opening of the supermarkets; but we love a challenge! By combining the reception and shop, we can extend the shop's daily opening hours, as well as having a longer open season – something our guests have been asking for.
A sympathetic design
Given that these aren't architecturally special or truly old buildings, we realised we could achieve a better result by knocking them down and starting again. Our architects have designed a lovely, modern wooden-clad building.
Here are some of the architects' drawings showing the north and east elevations of the new build. We've gone for a "contemporary country" style to complement the older farm buildings at Polmanter. The cedar cladding will weather beautifully, giving an attractively soft silvery finish.
As well as not looking as good as our more recent buildings, these older facilities were poorly insulated and didn't meet our current eco standards. Although there was an access ramp into the shop, it was a bit steep – our new design makes access for wheelchairs and buggies far easier.
A local focus
These days, many guests arrive having stocked up in a local supermarket en route. We don't need to keep such a big range in our campsite shop any more, as there simply isn't the demand. So, we've been able to scale back slightly the size of the shop display area, and we've concentrate on providing yummy Cornish produce from our favourite suppliers. We sell local meat, beers and ciders, chocolate and dairy produce among other items; and there's a nice mix of gifts and everyday treats.
Selling the essentials
One thing we haven't changed is our freshly-baked bread and croissants. It wouldn't be Polmanter without that enticing bakery smell every morning. Pick up a paper from the shop, grab a still-warm baguette and a pint of fresh local milk, and enjoy the perfect campsite breakfast. And don't panic – we've kept the range of camping essentials such as barbecue goodies and forgotten toiletries!
And upstairs…
And here's a fantastic new benefit… There are two gorgeous self-catering holiday apartments above the new reception and shop. Perfect for those families who love to holiday together, but don't all want to camp. We're so excited about this new venture!
At the moment, the first floor still feels like a long way ahead – here's a recent photo of the ground floor layout! Please note Site Dog Bella inspecting the work: she's pretty happy so far (now we've reassured her that dog food will be back on sale).
We'll keep you updated on how the building work's going – and we're looking forward to welcoming guests into our shiny new reception next season!